Italian Wedding Photographers
Tuscany | Venice | Lake Garda | Lake Como | Amalfi | Apulia – Italy, Europe and Worldwide
Nice to meet you!  We are Alberto and Alessandra, two destination wedding photographers based in Verona who love to shoot weddings in all the italian territory (Tuscany, Apulia, Lake Garda, Lake Como, Amalfi, Venice and Rome), in Europe and worldwide.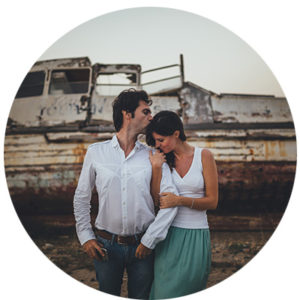 "We transform your emotions in memories"

Our story
The story of our studio "Alberto e Alessandra – Fotografia Italiana", starts in Verona (our hometown) some years ago, when we both finally decide to turn our biggest passion and second job, in our one and only profession. Today we travel throughout Italy and all around the world to photograph the most beautiful weddings, assisted by valuable collaborators who share our concept of wedding photography.

Our style and philosophy
Our photographic style is unmistakable: in our pictures reportage and creative portrait blend in an elegant and sophisticated composition with a clear preference for spontaneous, exciting and original photos. Our first love is portraiture, so in every photo shooting we pay special attention to the couple session. Our other passion are details: clothes, setting up, accessories. Small details that make the difference and customize every wedding.
We like to shoot outdoors, in the nature. We like to play with natural light and with the contrast between shadows and lights, with geometries hidden in the landscape and with emotions that shine through glances and little gestures.

Our purpose
Our ideal customers are those "crazy" couples who are not afraid to go out of the usual schemes and get involved. Couples who are able to climb a rock, get into the water, walk barefoot on a meadow or have their hair messy because of the wind.
We love to travel, find new places and meet interesting people.
If you recognize yourself in our photos and in our philosophy, it will be a pleasure to work for you!
"You don't make a photograph just with a camera. You bring to the act of photography all the pictures you have seen, the books you have read, the music you have heard, the people you have loved." 
 Ansel Adams

wedding photographer Tuscany