Italian Wedding Photographer
Tuscany | Venice | Lake Garda | Lake Como | Amalfi | Apulia – Italy, Europe and Worldwide
Nice to meet you!  We are Alberto and Alessandra, two destination wedding photographers based in Verona who love to shoot weddings in all the italian territory (Tuscany, Apulia, Lake Garda, Lake Como, Amalfi, Venice and Rome), in Europe and worldwide.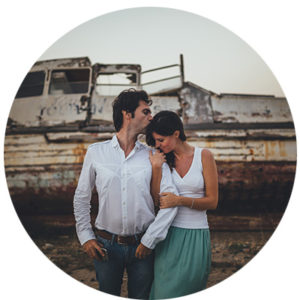 "We transform your emotions in memories"

Our story
The story of our studio "Alberto e Alessandra – Fotografia Italiana", starts in Verona (our hometown) in 2014, when we both finally decide to turn our biggest passion and second job, in our one and only profession. Alberto has always been passionate about photography, especially portraiture, but his career started in 2009 (as "Alberto Zorzi Photography") with the first weddings for close friends only. The dedication he's always put in this job, carried out in parallel with the architectural profession at a first stage, and the quality of his work has led to a rapid increase in customers' requests. The enthusiastic response during the years convinced him to devote himself completely to wedding photography by establishing his own studio. In 2014 Alessandra joined the team, so today we work in a solid and structured environment, assisted by valuable collaborators who share our photographic style and our concept of wedding photography.

Our style and philosophy
Our style is unmistakable: reportage and creative portrait merge into an elegant and refined composition, with a clear preference for natural, emotional, candid and original shots. Despite having a clear-cut idea of which ingredients can make a perfect wedding photo-service, our main objective is to make the bride and the groom happy and comfortable, favoring their every desire or personal taste, in the belief that the photographers should never prevail, but work in accordance with the couple to forge the shoot that reflects their style and mood. We never force the couple in built poses, but we try to "seize the moment" and capture situations and emotions while remaining almost invisible. Our main slogan is: discretion. Only during the portrait session, we are concerned with making the simplest possible approach with the camera, limiting ourselves to suggest some ideas that make all as natural as possible.

Our purpose
Our greatest rewards are "our couple's" enthusiasm and satisfaction. This is the biggest stimulus to keep improving and refining our job. Every marriage is both a new challenge and an opportunity to exceed our previous achievements. We always like to experiment new techniques and to make every photoshoot unique and original.
"You don't make a photograph just with a camera. You bring to the act of photography all the pictures you have seen, the books you have read, the music you have heard, the people you have loved." 
 Ansel Adams
wedding photographer Tuscany